Sri Lanka's culture and agriculture production is strongly linked with the coconut tree, as the island has ideal conditions for coconut cultivation year-round. Having been involved in coconut exports since the era of British colonial rule (19th Century), Sri Lanka is now among the top exporters of coconut in the world. Over the years, the Sri Lankan coconut suppliers have evolved the local coconut industry to meet  the global demand by expanding the product range, improving quality, and increasing production volume. 
Sri Lanka's Coconut Export Performance 
In the last decade, there has been steady growth in the export performance of the coconut industry in Sri Lanka, with a significant increase in export value between 2020 and 2021. The export earnings from coconut products in 2021 was USD836.1 million, which is a 25.80% growth compared to the preceding year. 
Apart from the expansion of the consumer class and the post-Covid pent-up demand for commodities worldwide, the main contributor to the increase in demand for coconut products is the trend for healthy and organic food and beverages. The gradual global recovery from the pandemic is proving a boon for many coconut suppliers.
A majority of coconut kernel products are also gaining a positive reputation as healthy alternatives for commonly consumed products, such as dairy milk. Active Carbon produced from coconut shells is one of the most successful coconut exports due to increasing demand from water, air, and mineral purification manufacturing. Furthermore, new trends in vertical farming and other forms of agriculture have contributed to the increase in demand for coco peat products and coconut coir products. 
Sri Lanka's bumper harvest of coconuts in 2021 could also have contributed to the increase in coconut exports during the year. 
In 2021, the Sri Lankan Rupee depreciated by 10%, leading to local products becoming significantly more competitive in the international market. This meant that there was increased demand for Sri Lankan coconut products, against competitor coconut producing countries.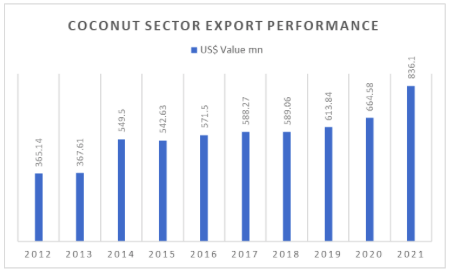 Source: Export Development Board
As a percentage share of Sri Lanka's total merchandise exports, coconut exports have shown an increase in contribution in the past four years, with a significant surge recorded from 2019 to 2020, despite the impact of the COVID-19 pandemic. In 2021, coconut exports accounted for 6.83% of total merchandise exports, a marginal increase from the 6.7% share recorded in 2020.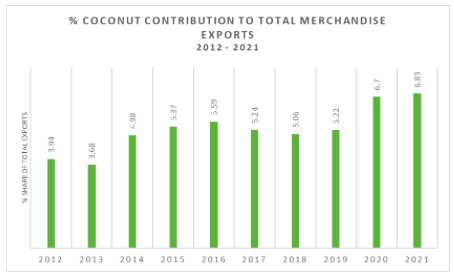 Source: Export Development Board
Snapshot of Global Coconut Producers 
In 2018, Sri Lanka was the fourth largest producer of coconuts in the world, behind Indonesia, the Philippines, and India*. As per data published by the Food and Agriculture Organization in 2020, Brazil surpassed Sri Lanka to reach fourth place, but Sri Lanka remained among the top five coconut producers in the world.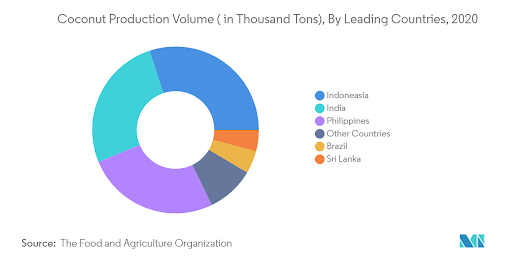 Source: The Food and Agriculture Organization
Portfolio of Coconut Products Exported by Sri Lanka
The key categories of coconut products exported by Sri Lanka are kernel products, shell products and finished fibre products. Kernel products were responsible for 52% of the total export value in 2021, at a value of US dollars 434.57 million. Fibre products made up 29.7% of the total export value with a contribution of US dollars 248.35 million, and shell products made up 18.3% of the total export value with a contribution of US dollars 153.18 million.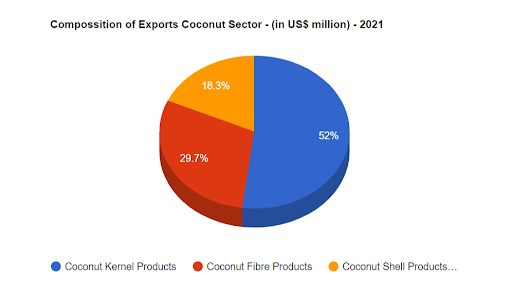 Source: Export Development Board
Looking at the export performance of individual product types, the highest year-on-year (2020 to 2021) export value growth was recorded by coconut cream at 44.70%. Desiccated coconut export value increased by 37.60%, and coconut milk powder export value increased by 30.50% within this same period.
Coco Peat, Fibre Pith & Moulded products recorded a growth of 27.84% in export value from 2020 to 2021, while activated carbon grew by 33.89% during the same period.
Source: Export Development Board
Coconut Export Markets 
At present, Sri Lanka's largest coconut export market is the USA, with more than twice the market value of Germany, which is the second-largest. 
Looking at the export figures from 2021, the value of coconut products exported to the USA amount to US dollars 152.65 million, which is a 24.78% increase from the preceding year, while the value of products exported to Germany amount to US dollars 65.11 million, an 18.48% increase from the preceding year. 
The Dutch and Chinese markets too have grown in export value, recording US dollars 61.69 million and US dollars 51.17 million respectively in 2021.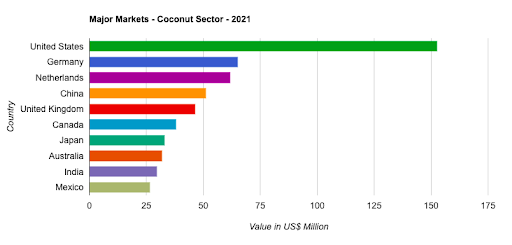 Source: Export Development Board
Increase in Demand for Coconut Products Globally 
Transparency Market Research has predicted rapid growth in the coconut industry from 2021 to 2031 based on recent studies on market behaviour. Increasing awareness of the health benefits of edible coconut products and growing demand from developed countries—such as North America and certain European countries are major factors that drive the growth of the industry. 
Increasing global awareness of the benefits of coconut oil, especially in comparison to other oils, is making it a more viable option for consumers, leading to coconut oil growing in popularity as a food ingredient. Furthermore, coconut oil is widely used in cosmetic products, such as hair oil and soap for its natural emollient properties. For example, multinational company Unilever launched its first sustainable beauty brand Love, Beauty and Planet in recent years, and a primary ingredient in the range is coconut oil**. 
Coconut water, which is high in natural nutrients and electrolytes, is gaining popularity among health-conscious consumers as a natural energy drink. Vita Coco, one of the leading global coconut water brands, conducted its Initial Public Offering (IPO) in 2021 on the back of strong demand for coconut water. 
Coconut milk is considered a healthy alternative to dairy milk, gaining immense popularity, especially among the vegan consumer segment. Other edible derivatives such as coconut sugar, chips and cookies are also growing in demand for associated health benefits. 
Looking at the non-edible range of products, the demand for horticulture related products such as coco peat continues to grow due to the global shift towards advanced soil conditioners and vertical farming. The demand for coconut shell based activated carbon is growing as a result of increased usage in water and air filtration, and precious metal extraction. Coconut shell activated carbon is also widely used in the manufacture of supercapacitors because it is considered to be low cost and environmentally friendly***. 
Sri Lanka's Coconut Harvest in 2021
Sri Lanka's coconut industry recorded a harvest of 3,383 million nuts in 2021, which is a 20% increase compared to the harvest of 2,818 million nuts recorded in 2020.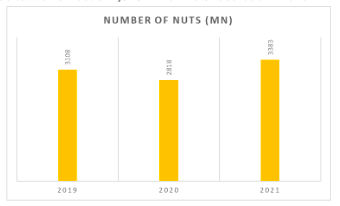 Source: Coconut Research Institute
The coconut tree requires a significant volume of rain for successful growth, and the island had great rainfall in 2021, which very likely contributed to the increase in harvest. Furthermore, Sri Lanka's Coconut Research Institute encouraged cultivation and coconut land productivity in recent years with newer breeds, better intercropping strategies, better pest control mechanisms, improved fertiliser applications and other measures, which are beginning to bear fruit in terms of increased harvest. 
Sri Lanka's Coconut Cultivation Board Chairperson, Senior Lecturer Madhavi Herath has stated that the Board's objective is to increase the annual production of coconut to 3,800 million nuts in three years, and to increase coconut export income to US$ 1 billion****. As part of this initiative, the Board hopes to facilitate the planting of 7.5 million new coconut saplings in 2022, and further promote cultivation in the Central Province of the island. 
New Product Development
Apart from the fact that Sri Lanka manufactures coconut products of the highest quality, the local industry has been able to remain as a front-runner in the global coconut market because it has evolved and adapted to the demands of the international market. 
UHT coconut milk packaged in tetra packs is gaining traction in the global market, and a few local producers have expanded their offering to cater to this demand.
"We are installing both a UHT plant and a tetra line to meet the growing global demand for natural tasting coconut milk and its value added products", says Jason Samaranayaka of Mathammana Factory. 
The demand for MCT coconut oil is fast-growing, as consumers become more aware of the health benefits of the product. MCT coconut oil is produced by separating the medium-chain triglycerides in coconut oil. The fatty acids in coconut that are more likely to deposit as fat—long-chain triglycerides are largely removed, and only the medium-chain triglycerides are maintained in the end product. Research suggests that MCT oil can contribute to increased energy and appetite control. MCT oil is also increasingly included in ketogenic diets*****. 
"The MCT Oil demand has been growing quickly in Japan in the last few years due to its health appeal. Currently, there is a shortage of suppliers in the market", says Chandika Perera of Ceytea International, based in Japan. 
Ceylon Exports & Trading Pvt Ltd is a local coconut manufacturing and exporting company that is working on extracting plant protein concentrates from coconut by-products. 
"We wanted to introduce a ready-to-drink coconut milk fruit flavoured range under our Coco House brand and realised that the alternative dairy market was lacking many options with high plant protein content. Therefore, we have found a novel way to extract proteins from coconut kernel by-products. We believe at commercial scale, this will add tremendous value to the industry, as well as the country", says Dulara de Alwis, Chief Executive Officer of Ceylon Exports & Trading (Pvt) Ltd.
Challenges Faced by the Industry 
While the industry continues to increase production and contribute to the export income of the country, it has also faced a large number of difficult challenges. 
Currently, one of the most challenging circumstances that the industry—along with the country's entire agriculture sector is facing—is the loss of crop due to the organic fertiliser policy introduced by the government. 
Industry representatives have spoken to the local media stating, that Sri Lanka's coconut production will be detrimentally impacted if much needed fertiliser is not made available to coconut suppliers urgently. If the change does not take place in a timely manner, many in the industry believe that the island will have to opt to import coconuts by 2025, instead of being one of the primary exporters of coconut to the world. 
As a result of this challenge, many coconut growers are looking towards alternative income sources, one of which is selling cultivation land for residential purposes and cutting down coconut trees******. 
Another burning issue faced by the industry in the current economic context is fuel and power shortages, which have a damaging effect on production capability. Daily power outages interrupt the production process, and although many factories are equipped with generators, the challenge of limited fuel supply in the country means that there is no consistent guarantee that generators can be utilised when needed. This makes the threat of losing business to producers in other countries an unfortunate possibility. 
"In the month of March 2022, we had to operate several days at lower capacity due to extended power cuts and lack of diesel to operate our generators," says a manufacturer of coconut flour in Sri Lanka who wanted to keep his last name and company name confidential.
The world is currently facing a number of challenges stemming from the Russia-Ukraine war. For example, the production and trade of commodities which are predominantly exported by Russia and Ukraine, such as energy and fertiliser, have been severely disrupted*******. This impact is also felt rather strongly here in Sri Lanka, especially with regard to growing crops.  
In addition to these challenges, exporters also rely on imported packaging material to honour their orders. "The dollar shortage in the country means that imports for re-export purposes are also delayed, since banks either place restrictions on remittances or take longer than usual to source the foreign exchange," comments Surangi Bullivant from Sula Pvt Ltd, an importer of packaging material for the Sri Lankan coconut oil export industry.
Taking the Industry Forward 
The critical needs of the industry right now are economic stability, access to fuel and energy for production, and fertiliser for farming.  
The following areas need to be addressed in the medium to long term, once the industry is able to stabilise and function more smoothly. 
Seedling plantation

– Sri Lanka planted 2.28 million seedlings in 2021, which is an increase from the previous year (1.98 million seedlings). However, when you consider the number of seedlings issued about a decade ago (9.73 million in 2012, 6.81million in 2013), it is apparent that the numbers are lower than they ideally should be********

. The fact that Sri Lanka had a bumper crop of coconuts in 2021 could be linked to the large number of trees planted in the past ten years.

If the harvest is to increase, planting more seedlings each year is imperative. Increasing effectiveness of breeds planted is also important, and as per Sri Lanka's Coconut Research Institute, the year 2021 saw the introduction of more effective breeds such as CRIC 60, CRIC 65, SL 98, SL 2020, Kapruwana, Kapsetha and Kapsuwaya.
Research and development – in terms of coconut cultivation, we need research and development to introduce better breeds, better pest control management, use of more effective fertiliser, better intercropping strategies, and more effective soil improvement techniques. From a manufacturing perspective, we need to invest in product innovation and value addition.

Cash transfer incentives

– better incentives from those more downstream in the industry (manufacturers, retailers) to those upstream (coconut growers) can drive more equitable and sustained growth.

Innovations in processing and new product developmen

t – with consumers around the world becoming more aware of the quality of the food they eat, turning towards more plant-based alternatives to meat and dairy, and becoming increasingly more conscious of the source of origin of the food they consume, there is a wonderful opportunity for organic and sustainable coconut product manufacturers to meet global demand.

High value categories such as MCT oil and coconut proteins are some of the emerging areas that the local industry needs to expand into.
Building global brands

– building brands around fair trade and transparency of Sri Lanka's coconut supply chain is a great opportunity to cater to the increasing global demand for sustainable, ethical food products.

Furthermore, local manufacturers can also extend their brands to include products developed from high value coconut ingredients such as water purifiers using activated carbon, dairy free cheese using coconut milk, etc.
"Building another USD1B export industry is a need of the hour in Sri Lanka to support the balance of payment, kick-start economic growth and increase worker incomes. Despite the near term challenges, many of us in the industry believe that Sri Lanka's coconut industry has what it takes to achieve that mark within the next few years," states Dulara de Alwis.
——
Footnotes:
*https://www.globaltrademag.com/global-coconut-market-2019-thailands-imports-continue-to-grow-robustly-while-domestic-production-declines/#:~:text=Exports%20by%20Country,Viet%20Nam%20(57K%20tonnes).
**https://cosmeticsbusiness.com/news/article_page/Unilever_pledges_sustainability_promise_with_Love_Beauty_and_Planet/148625
***https://bioresources.cnr.ncsu.edu/resources/coating-activated-carbon-from-coconut-shells-with-co3o4-ceo2-for-high-performance-supercapacitor-applications-an-experimental-study/
****https://www.dailynews.lk/2022/02/07/local/271985/%E2%80%98plan-increase-coconut-related-export-income-us-1-bn%E2%80%99
*****https://www.forbes.com/health/body/what-is-mct-oil/
******https://www.sundaytimes.lk/220410/business-times/coconut-industry-wants-fertiliser-or-face-imminent-collapse-479132.html
*******https://blogs.worldbank.org/developmenttalk/commodity-prices-surge-due-war-ukraine
********Data Source: Coconut Cultivation Board