Sri Lanka's agricultural production sector has largely depended on the export of coconut cultivation, and according to the Sri Lankan Export Development Board, Sri Lanka is now the fourth-largest exporter of coconut products around the world.*

Sri Lanka's coconut export industry has evolved significantly over the past decade, with industry players committing to meet global quality standards, expanding the coconut-based product range, and increasing production volume. 
Sri Lanka's Coconut Export Performance, 2022
An analysis of data from the Sri Lanka Export Development Board shows that the country's coconut export industry has recorded steady growth in recent years. However, 2022 was the first in nearly a decade to record a negative growth. Although the first half of the year showed high growth, the industry ended on a sobering note due to a global economic slowdown that had an impact on many developed and developing countries.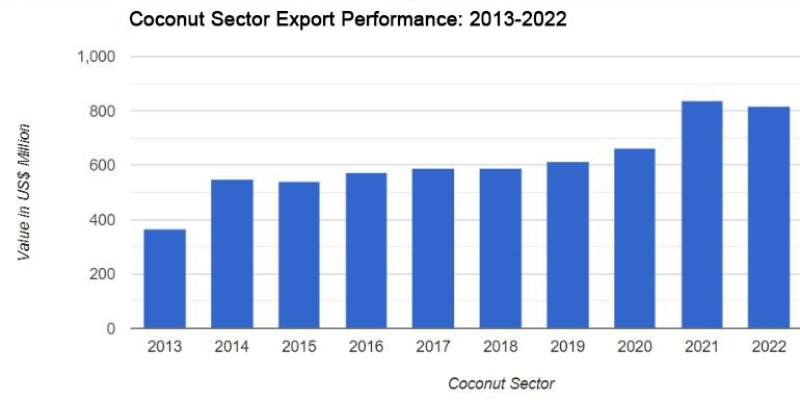 The following reasons can be considered contributing factors for this decline: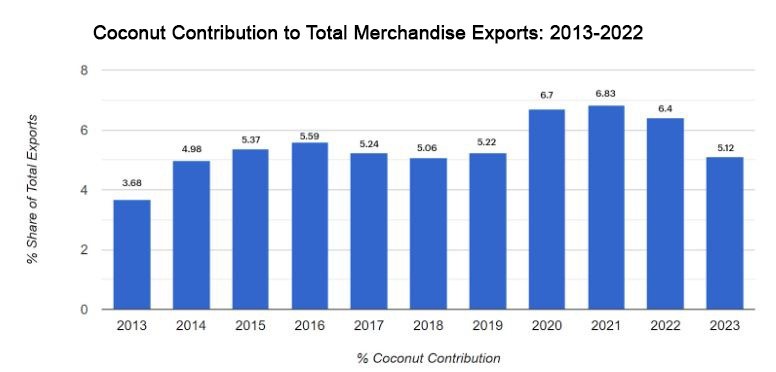 Rising interest rates on the back of high inflation leading to high cost of capital –

Rising interest rates due to high inflation has increased the cost of borrowing, reduced consumer disposable income, and discouraged business investment in many markets.**



Debt crisis in emerging markets reducing disposable income –

Sovereign debt troubles in emerging economies such as Egypt and Pakistan have reduced foreign currency reserves, impacted the buying power and reduced access to global capital markets.***



Labour shortages in developed countries, leading to dampened growth prospects

– Ongoing labour shortages in developed countries can reduce productivity, increase labour costs, and contribute to a mismatch in the economy, ultimately limiting growth prospects. Businesses may struggle to fill available positions, leading to decreased competitiveness and lower economic activity.****
An extended war in Europe, leading to supply chain uncertainties and inflation –

The war in Ukraine has resulted in supply chain disruptions, inflation, and reduced investment, which have impacted the global economy. Some of the more significant repercussions are scarcity of resources, increased prices of goods and services, reduced productivity, and profitability for businesses.*****
 The debt and currency crisis in Sri Lanka led to a reduced dollar value per kg –

The price per kilogram of Sri Lankan coconut-based product exports has been impacted by an 82% currency depreciation, resulting in a downward dollar pricing spiral among many coconut product exporters. The reason for this is that the cost of the coconut market in Sri Lankan rupees did not rise enough to match the currency depreciation.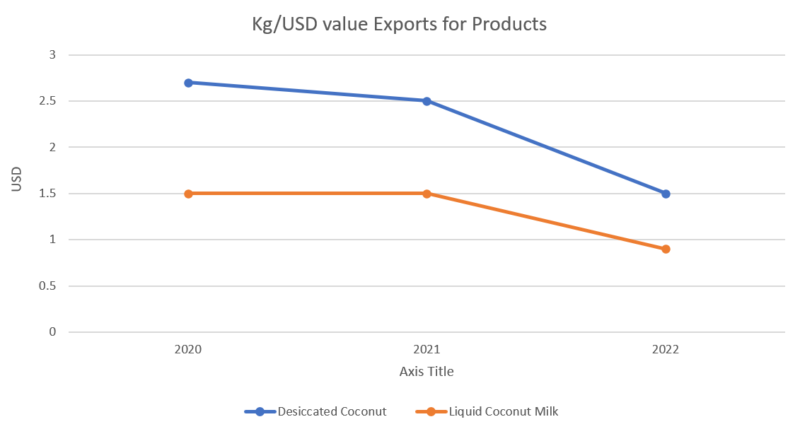 Snapshot of Global Coconut Producers 
In 2018, Sri Lanka was ranked the world's fourth-largest coconut producer behind Indonesia, the Philippines, and India. However, as per the Food and Agriculture Organization's 2020 data, Brazil overtook Sri Lanka and secured the fourth position, but Sri Lanka still retains its position among the top five coconut producing countries globally.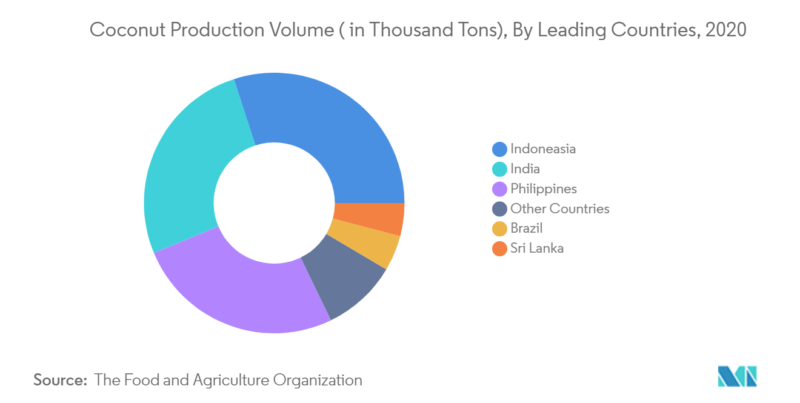 Portfolio of Coconut Products Exported by Sri Lanka
The key categories of coconut products exported by Sri Lanka are kernel products, finished fibre products and shell products. 49.8% of the total export value in 2022 came from kernel products at a value of US dollars 407.01 million. Fibre products made up 29.4% of the total export value with a contribution of US dollars 239.88 million, and shell products made up 20.8% of the total export value with a contribution of US dollars 170.22 million.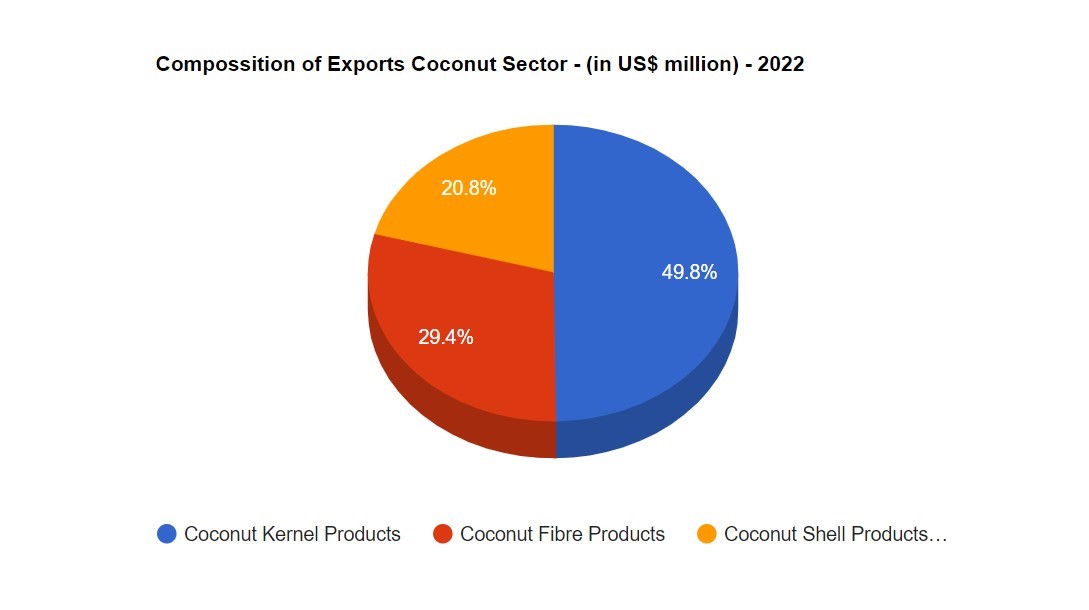 Although most coconut categories showed negative growth in the 2022 calendar year, there was significant growth in activated carbon exports, on the back of continuing demand for water and air purification, mining applications, and a few new initiatives such as hard carbons in electric batteries. Haycarb PLC, has over 16% of market share with an annual capacity of over 50,000 metric tonnes of activated carbon, and the company is looking to expand its domestic capacity in water and air purification.******

Coconut Export Markets
The USA continues to be Sri Lanka's largest coconut export market in 2022 with an export value of USD 161.75 million. The Netherlands comes in second, with an export value of USD 63.34 million. Germany, which came in second in 2021, has moved down the order to fourth place in 2022 with an export value of USD 54.43 million.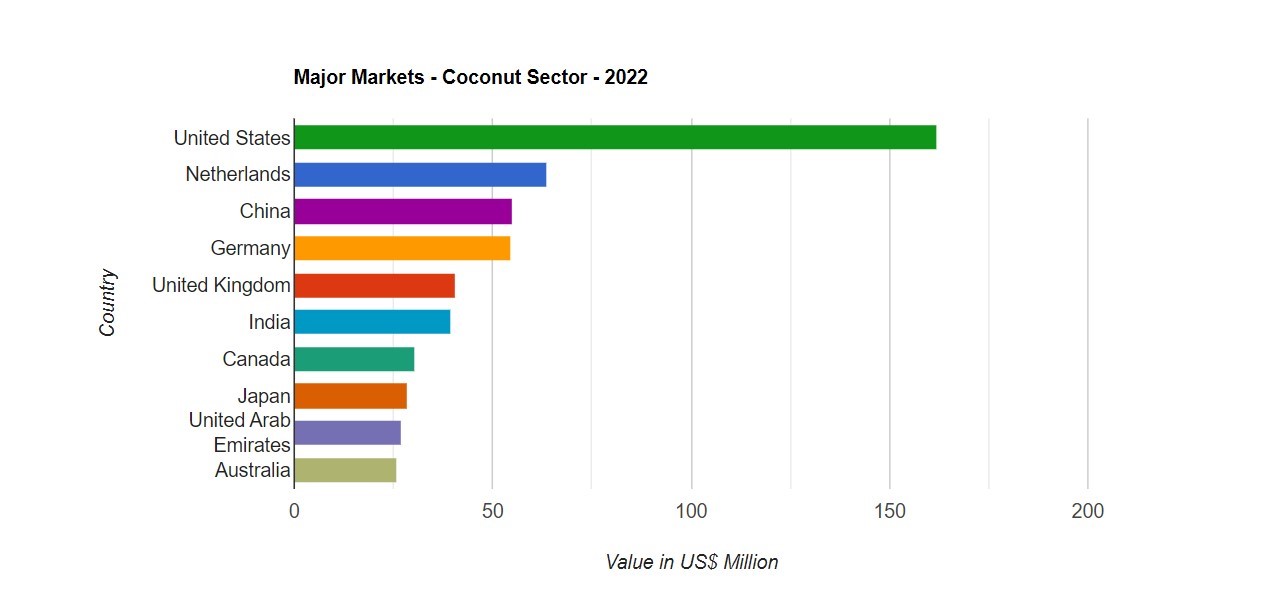 Some of the key emerging markets for Sri Lanka's coconut exports include India and China. India, in particular, has seen a significant increase in demand for coconut products in recent years. This can be attributed to the country's large population and rising disposable income levels, which have led to increased consumer spending on health and wellness products. Similarly, China's growing middle class has shown a growing interest in natural and organic products, including coconut-based products.
As per export performance data for 2022, the USA is currently the largest global market for Sri Lankan activated carbon exports, followed by China and Estonia. Meanwhile, the exports of coco peat, fibre pith, and moulded products have been largely directed towards Mexico, Japan, China, and Morocco. Germany, the USA, and the Netherlands have been the largest markets for liquid coconut milk, while desiccated coconut, has been exported to India, the USA, the United Arab Emirates, and Pakistan.
Sri Lanka's Coconut Harvest through the years (2021-2023)
Even though there has been a slight rise in the number of seedlings planted in 2022, the trend of replanting has decreased significantly when compared to a decade ago.*******  This decline in replantation may result in a significant decrease in coconut production in the future.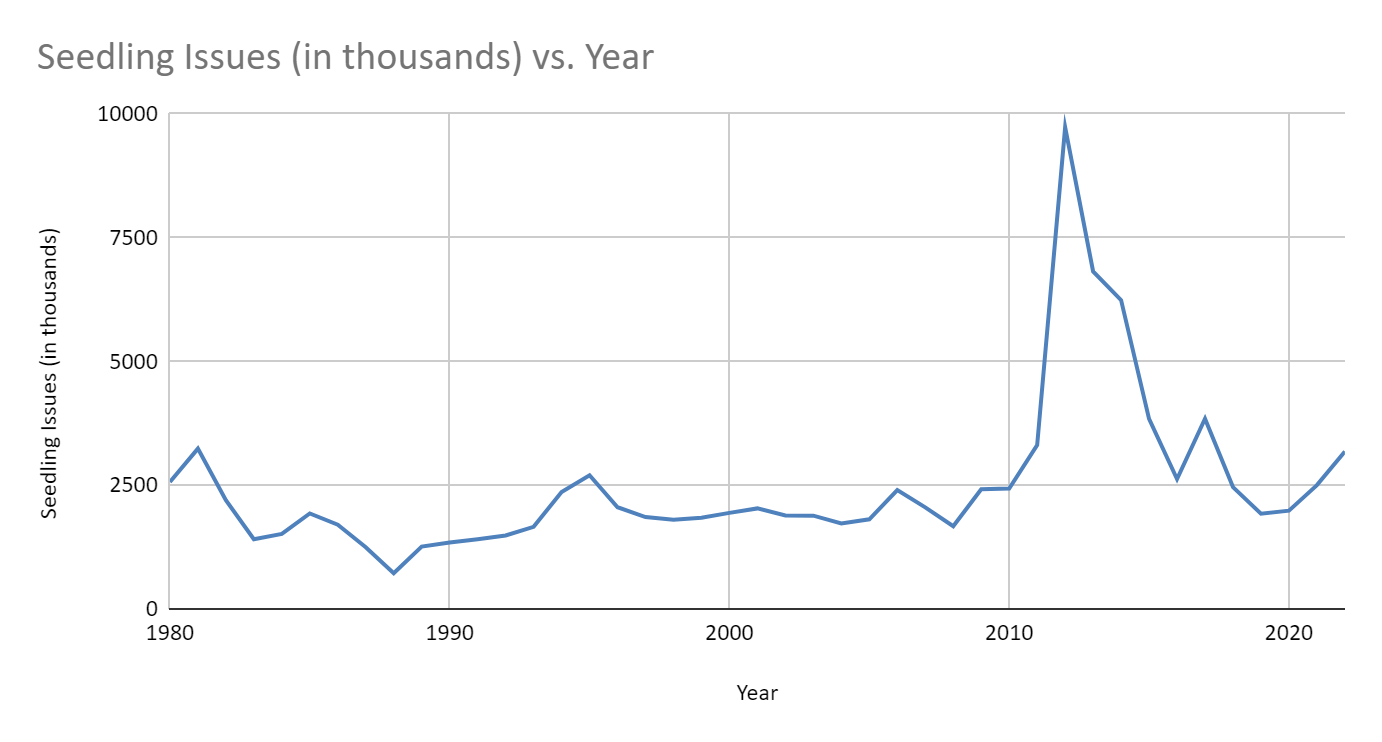 It was recorded in 2022 that Sri Lanka had one of the highest harvests in recent history, keeping up with the momentum from 2021.******** This was due to a great year of rainfall and strategic planting efforts from the country in the early 2010s. Unfortunately, due to the white fly pest that is currently uncontrolled by the industry and the authorities, the 2023 harvest is looking bleak, with a potential drop of about 10%.*********
According to recent yield data, Sri Lanka harvested 3.2 billion nuts in 2022.********** However, experts warn that the lack of sufficient fertiliser support could lead to a crop failure, putting the industry at risk.*********** If this issue is not addressed promptly, Sri Lanka may face a shortage of coconuts, which could lead to the country being forced to import them even for domestic consumption as early as 2025. This highlights the urgent need for action to support and sustain the coconut industry in Sri Lanka.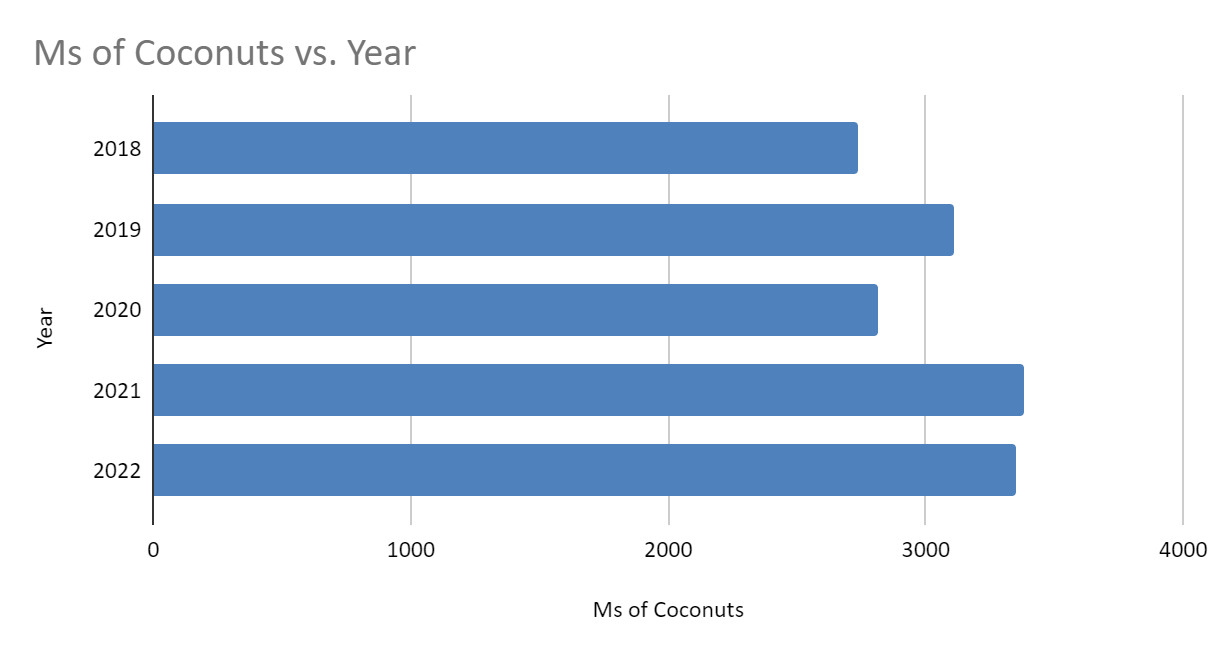 New Product Development
According to industry experts, Sri Lanka's coconut sector has been successful in maintaining its leadership position in the global coconut market by adapting to changing market demands and investing in new technologies. 
"Aside from the fact that Sri Lanka produces high-quality coconut-based products, the local sector has been able to maintain its leadership position in the global coconut market by evolving and adapting to market needs," says Tharanga Lanka Weerasinghe, Manager of the Coconut Development Authority's Research and Development Division.
One example of such investment in new technologies is Sri Lankan activated carbon companies such as Haycarb PLC, which is actively investing in meeting the growing demand for hard carbon, as reported in its most recent annual financial statement.************

Ceylon Exports & Trading Co Pvt Ltd. is conducting R&D for new product developments that suit the global market trends. For instance, the company conducted a two-year period of testing to introduce the world's first coconut smoothie, Nootz, made from an entirely organic coconut milk base combined with natural, tropical fruit and with zero preservatives. "Nootz is the world's first plant based alternative from a coconut milk base, and we have been overwhelmed by the response the product has received", says Dulara de Alwis, Chief Executive Officer of Ceylon Exports & Trading (Pvt) Ltd. 
As a result of these investments, Sri Lanka's coconut industry has been able to tap into new markets, including the growing trend of plant-based milk beverages.
"Plant-based milk beverages are gaining global traction. The dairy alternative market is scheduled to grow as coconut milk drinks, which do not consist of soy or nut allergies, have become a customer favourite in this regard," says de Alwis. 
Challenges Faced by the Industry 
According to Malintha Gajanayake, a representative of the Delegation of German Industry and Commerce in Sri Lanka (AHK Sri Lanka), "due to Sri Lanka's sovereign debt default, the treasury has paused financial support for international trade fair participation, putting SME exporters at a disadvantage compared to larger industry exporters from other countries with more supportive export development policies." Gajanayake claims that "international trade fairs provide an excellent platform for SMEs to not only understand market trends and the availability of cutting-edge technology, but also to meet new business partners and expand their export capacities. Many SMEs struggle to gain international exposure due to the current constraints."

Additionally, several companies in the export industry warn that a corporate tax increase to 30% may reduce returns and incomes, making the export sector globally uncompetitive.*************
Sri Lanka is facing a mass of skilled and semi-skilled professionals leaving for better opportunities abroad, which may lead to bigger problems in the future.************** While the government encourages migration to increase remittances and support the economy, this strategy could have negative consequences. However, this trend is not new, as Sri Lankans have been migrating to various countries since the 1950s.
Asif Nanji, Director of Interplast Asia (Pvt) Limited, a manufacturer of HDPE packaging material for the Sri Lankan export industry, adds that the dollar shortage has led to spikes in costs and a low availability of packaging material and machinery spare parts.
According to Jason Samaranayake, the Sole Proprietor of Mathammana D/C Mills, notes that the large and sudden hike in utilities, such as electricity, is challenging to handle in the short term, especially since global prices for desiccated coconut have not increased.
There was also a sudden appreciation of the Sri Lankan rupee against the US Dollar in the first few months of 2023, which caused exporters many losses while reducing global competitiveness. 
Despite inflation and changes in tax policy, the coconut sector in Sri Lanka has shown resilience and continued to innovate and adapt to changing market demands.
Taking the Industry Forward 
According to a statement by the Director of the CCB, Deepal Priyanjith, by increasing the use of moisture conservation techniques in coconut plantations can boost the availability of coconut fertiliser in the market.
It is recommended that the Sri Lankan government continues to provide tax incentives for export promotions. The recent tax policy changes have eliminated tax incentives for marketing, and this should be reinstated to support efforts aimed at increasing foreign exchange inflows into the country, stated Hasitha de Alwis, current Director of Ranfer Teas and ex-Director of the Sri Lankan Tea Promotion Unit in the Tea Board.
Footnotes:
*https://www.srilankabusiness.com/coconut/about/industry-capability.html#:~:text=Sri%20Lanka%20is%20the%20fourth,products%20to%20the%20global%20market
**https://www.ilo.org/global/about-the-ilo/newsroom/news/WCMS_862321/lang–en/index.htm
***https://www.arabnews.pk/node/2282186/business
****https://www.euractiv.com/section/politics/news/labour-shortages-felt-all-over-europe/
*****https://www.maersk.com/news/articles/2022/11/09/rising-inflation-and-its-impact-in-the-world-of-logistics
******https://www.sundaytimes.lk/230219/business-times/haycarb-plc-riding-the-black-gold-wave-512031.html
*******Source: Coconut Cultivation Board
********Source: Coconut Research Institute
*********https://economynext.com/sri-lanka-king-coconut-output-to-crash-40-pct-from-white-fly-disease-108089/
**********Source: Coconut Research Institute
***********https://www.sundaytimes.lk/220227/business-times/impact-of-non-fertiliser-use-on-coconut-known-
************https://pubs.rsc.org/en/content/articlelanding/2019/nr/c9nr07545c
*************https://www.ft.lk/front-page/Dipped-Products-diversifies-with-Rs-1-b-expansion-amidst-tough-time-for-exporters/44-745641
**************https://www.themorning.lk/articles/112929